Townhomes and Condos in the Bixby Knolls area of Long Beach are highly sought after and limited in number. There are some fantastic townhomes located close to the country club golf course. Finding a condo in Long Beach can be tough, but Bixby Knolls does have some great properties. With neighboring California Heights, you may also find a great Long Beach Home or duplex. The Bixby Knolls/California Heights area of Long Beach has some great history and is a quiet community. Use our Free Long Beach MLS to see what is available today!
With neighboring California Heights, you may also find a great Long Beach Home or duplex.
Here are some of the wonderful complexes available in this area and learn more about the local restaurants as well. This is by far not a complete list, call today at (562) 989-7111 and I can give you a list of what is currently available. As a top Long Beach Real Estate Agent I strive to give you the best service, so please ask for the HOT List so I can share what's available.
Address: 3939 Virginia Rd
Many of the lovely condos located in this building are 2 bed/2 bath with over 1400 sq ft! As they are in a great location, some of the condos have been upgraded by owners with fantastic kitchen's including granite counter tops and maple cabinets. This building has 50 units and was built in 1974. With low turnover you will want to keep an eye out for these Bixby Knolls condos using the Hot List or the Free Long Beach MLS.
---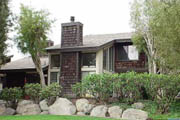 Address: 3663 Country Club Dr
What a find! These townhomes are tri-level and feature vaulted ceilings! Built in 1975 with a complex of 71 units, these units are extremely desirable. Many of the units have direct garage access and also have 3 bedrooms! This is a gated community that features ammenities of a community pool and spa. One of just a few developments on the prestigious Country Club Dr you will want to put these on your list when looking for Bixby Knolls Condos.
---
Address: 3510 Elm Ave
This complex is one of the most affordable in all of Bixby Knolls! This is known as the Elmwood Villas and it is a great complex. The building underwent a great facelift in early 2004. It has secured parking and the top level condos have high vaulted ceilings. Many of the units have balconies and the location makes it easy to get to shopping and quick freeway access. There are different floor plans available varying from 1 bedroom models to larger 2 bedroom models.