Luxury High Rises, Downtown Long Beach, CA
Luxury Condos in Downtown long beach – Enjoy the High Rises – HOT LIST
Find a Luxury condo in Long Beach for sale in California. Here we have put together detailed information about some of the finest luxury Ocean condos of Long Beach so you can get the information you have been looking for. Some These condos are known as the Pacific, Harbor Place Towers, and the Ocean Club. When looking for a luxury condo in Downtown Long Beach these buidlings are a must see.
Find out what is available by viewing the latest Long Beach MLS listings, or we may even have a listing currently available, if you view our featured listings. If you want even quicker service please contact us immediately at 562-989-7111 and one of our luxury condo experts will assist you immediately. Get on our list to be notified of the latest luxury buildings as soon as they hit the market.
Get the Hot List of Luxury High Rises The Pacific – 850 E. Ocean Blvd
When looking for an Ocean Condo in Long Beach you must see the building located at 850 Ocean, the Pacific has a grand entrance. Built in 1992 the building is newer and boasts a lobby with marble flooring and high ceilings. Many occupants of this building are not there full time as they use it for vacation property so the building is extremely quiet. The floor plans excellent with all sizes possible from 1 bed to larger 2 bedroom properties that are over 2,000 sq ft! Many of the condos boast grand kitchens with extensive use of granite counter tops and stainless appliances. The views, even on the lowest floors, can see from the Marina to the Queen Mary and beyond! With open floor plans that maximize the square footage in all areas you won't be disappointed. With 187 units this building still feels like a small community as the HOA provides excellent benefits such as 24 hr concierge service, pool, spa, gym, private beach, and an onsite manager these condos are truly desirable. Ocean Club – 1310 Ocean Blvd
  The Ocean Club is a high rise that was built in the mid 1980's and is located at 1310 Ocean Blvd. A lovely high rise with takes advantage of providing both powerful ocean views and commanding city views this building is a must see when shopping for a luxury condo. The are 116 condos available here and with this many units as you can have condos ranging in size from 1,000 sq ft to over 1,600 sq ft! HarborPlace Towers – 525 E. Seaside Way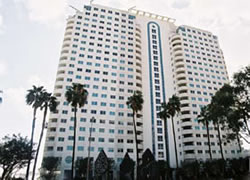 A luxury high rise condo building where you can even find a small 1 bedroom still! The HarborPlace tower is located 525 E. Seaside Way , giving you great access to views of the Queen Mary and front row seats when the Long Beach Grand Prix is in town. This is one of the few buildings where a first time buyer can have the opportunity to get a 1 bedroom as some are smaller than 800 sq ft, and yet still there are grand 3 bedroom condos that are well over 2000 sq ft. The hallways are adorned like a 5 star hotel with lush carpeting and expansive use of moldings. This building was built in 1990 so the floor plans are well thought out. You enter the building on Harbor Place Tower on Seaside way, and if you would like to enjoy the gym or pool it is located on the first floor (which is actually up on Ocean Blvd ). A dazzling white color sets this building apart from the others along Ocean blvd. With 220 units here, some units have Ocean views, while others have great city views, so whatever your desire you can find it here. The HOA has a website dedicated to this great development at www.harborplacetower.org       Get the Hot List of Luxury High Rises.