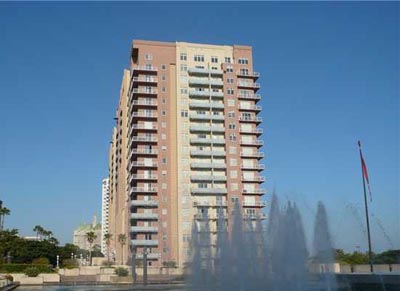 AQUA is a set of two towers located at 388 E. Ocean and 488 E. Ocean.  These 18 story towers have a prime location on the south side of Ocean Blvd so they are able to achieve unobstructed ocean views.  Built in 2006, they were constructed with concrete so you won't hear sound travel much between floors, but you will find it challenging to hang pictures on the walls.
Residences
As most modern construction goes, you will get some wonderful floor plans to choose from.  Each floor is composed with floor plans that take advantage of great ocean and city views.  1 and 2 bedroom units are available on each floor.  The 1 bedroom units that have ocean views are the 1C models and they are 678 sq ft.  There are a 4 different 2 bedroom models available on each floor.  The 2A (1,115 sq ft) and 2B (1,057 sq ft) floor plans will have the most direct ocean views available.
An 18 story high rise with commanding ocean views.
The 18th floor is reserved for the Penthouses so those will be on the larger side.  The three floor plans of the Penthouse units are named The Titan, Minerva, and Atltantis.  Here you will truly enjoy luxury with the floor plans ranging in size from 1,647 sq ft to over 2,504 sq ft.  The larger floor plans provide a two level layout and provide such options as a game room.
All of the condos here at AQUA have balconies.  The corner units have the largest balconies as the balcony wraps around the entire corner allow you to enjoy different views.  Since the ceilings are 10-12 ft in height they took advantage of that height and used large 8 ft high windows so you can get sunlight pouring into your unit.
Amenities
The builders wanted to ensure you would enjoy the total experience of being at AQUA so they did put in place some nice amenities.  On the grounds you will find a pool, spa, fitness center, club house, 24 hour security desk and sundeck with BBQ area.
Find your AQUA Condo
With over 500 condos available between each tower you will generally find a couple of condos available.  The hard part is finding the floor and floor plan that you really like so keep a careful watch on what is available at AQUA using our Hot List or search today using the Free Long Beach MLS. Can't wait? Call us today at 562-989-7111 and one of our downtown specialists will be happy to help you.