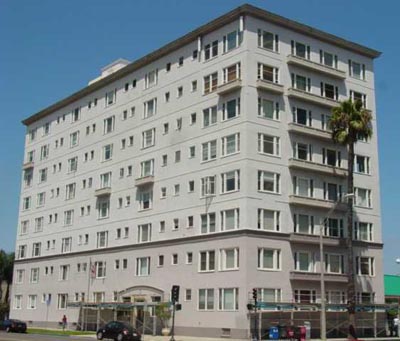 The Artaban is a historic building that although it has an address on Atlantic Blvd, is actually right on Ocean Blvd. That means you will get some condos with a peek-a-boo view to the beautiful Pacific.
Built in 1921 by architect Charles McKenzie, it is one of the earliest high rises in Long Beach. Charles McKenzie was also behind the Sovereign which is located at the west end of Ocean blvd.
A historic high rise condo development that has a wonderful location on Ocean Blvd.
Like many of the historic high rises in Long Beach, the Artaban has not always been a condo development. This 70 unit development was at one point an "own your own". Now that it is a traditional condo development it makes owning a piece of history in a prime location that much easier.
Floorplans will range from smaller studios that are under 400 sq ft to larger 1 bedroom properties that are over 900 sq ft. As in many of the historicy buildings, you won't find balconies on most of the units. Also similar to some of the other great historic buildings, laundry is a community laundry facility and street parking is the norm.
Lifestyle
The Artaban is nearby the local favorite Long Beach Cafe. It provides an easy walk to the beach and being near the East Village you are just a short walk from some great shops. If you want to go to the Pike, you may want to hop on your beach cruiser though as it will be a small hike.
Get to know the Artaban
The Artaban is a unique historic building and finding your unit should be a fun experience. Use our Free Long Beach MLS to see immediately what is available or get our updated Hot List so you can track all units available at the Artaban.  Call us us today at 562-989-7111 to learn more about the Artaban and the other exciting Historic buildings available throughout Long Beach.