Colonial Park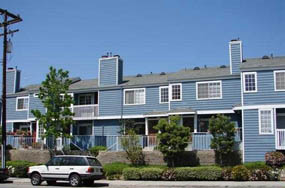 This lovely community is located in the Wrigley area of Long Beach. It is located at the cross streets of Long Beach Blvd and Spring St. If you have been searching for a town home in long beach this community may be the location for you. This community features a community swimming pool and spa for the residents of the 27 units to enjoy.
The town homes in this development are all multi-level properties that have been well maintained since the development was built in the 1985.
These town homes feature large open floor plans on their ground floors. They have fantastic fireplaces that can keep you warm on those winter nights. The kitchens open to the dining area and the living rooms are spacious with a bathroom on the entry level.
If having a garage with enough room for more than just two cars is important to you then you will love Colonial Park. The garages feature enough space for two cars and have the laundry their as well. Units have their living spaces on the top floor. These units have 2 bathrooms upstairs with one being a master suite.
If you have been searching for a wonderful town home near mass transit the units at Colonial Park await you.
Current Property Management:
Paragon Equities
Phone: 562-494-4455
Finding the townhome you want at Colonial Park is easy using our Free Hot List or our FREE Long Beach MLS. There are often just a few units available so call today at 562-989-7111 to find out which floor plans are available.