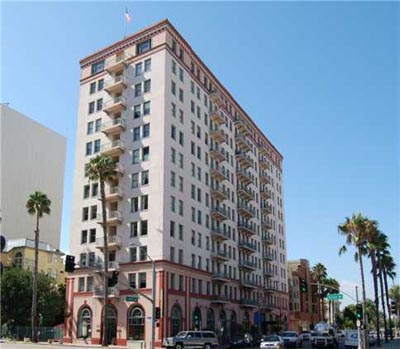 This iconic building located at 455 E. Ocean Blvd commands a prime location that gives it powerful Ocean views.  The Cooper Arms was built in 1923 and was designed to be the most "luxurious co-operative apartment building in Long Beach".  Today you will still find many elements of that luxury from the great room downstairs to the solarium on the top floor.
A historic high rise condo development that has a wonderful location on Ocean Blvd.
At 12 stories tall it isn't as high as modern high rises, but still has a commanding presence on the Blvd.  There are 159 units available, but at any one point in time you will probably find less than 10 condos to choose from.  Different than high rises built today you will find everything from Studios to larger 1 bedroom units here.  Floor plans will range in size from just over 300 sq ft to over 1,000 sq ft.  Many units have kept the charm of the 1920's with beautiful hardwood floors and kitchens that have been modernized but still have the charm.
Keep a close watch for units that face south as those are the most desirable.  Not every unit will have a balcony, but if you are lucky enough to enjoy a private balcony you will be able to relax and get a great view down Linden Ave to see the Pacific Ocean.
More Information
Lifestyle
Embracing a downtown lifestyle the Cooper Arms has small shops located on the first floor.  From a small shop to get your coffee to one of the best places in town to grab a sandwich you will be able to start your day off right by just walking downstairs.    With a prime location in the middle of downtown you will be able to enjoy fine dining at restaurants like the 555 East Steakhouse or walk over to Pine to enjoy places like the Madison or La 'Opera.
History
From the original idea that was conceived in 1922 the goal of the Cooper Arms was for it to be on the same level as the Biltmore of Los Angeles.  With the famed architects of Alexander Curlett and Claude Beelman behind the project it was truly destined to be a landmark.  They designed the building with steel and reinforced concrete and which has given it the strength to stand tall over the years.  It did also undergo a retrofit for earthquake safety.
Get to know the Cooper Arms
Whether you want to embrace the history or the lifestyle that encompasses the Cooper Arms, find out what is available today by using the Long Beach MLS or filling or getting the Hot List.  You will be able to be on top of the latest new listings 24 hours a day.  If you just need to learn more right now, call us today at 562-989-7111 and one of our professional real estate agents will be happy to help.
Additional Resources: