Alamitos Beach Condos
Alamitos Beach, the popular beach location, just east of Alamitos Ave on the eastern portion of downtown is home to some wonderful Long Beach condos. Here you will see many 1-2 story complexes that have 1 bedroom units and larger 2 bedrooms and 2 bathroom properties. Watch out for properties that have balconies with views and garages as they generally don't last long on the market. Find the Alamitos Beach condo that is right for you using the Free Long Beach MLS or our Hot List.
Address: 1329 E. 1st St, Long Beach Ca 90802
HOA: The Stardust
Year Built: 1959
Units: 48
This Long Beach condo complex in Alamitos Beach is a wonderful building that can have bright views from many of the units.  As was popular in the late 1950's this building has a quad that is open in the middle with plants throughout.  The lobby was remodeled in recent years which make a warm invitation to the entire building.  The floor plans range start at 527 sq ft to larger 2 bedroom, 2 bathroom units at 959 sq ft.  This building has a few private garages, community laundry, and the units have radiant heat. You can check the Long Beach MLS now to see if there are any available!
---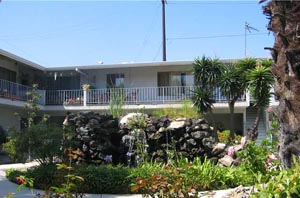 Address: 939 Appleton, Long Beach Ca 90802
HOA: Appleton Electra
Year Built: 1962
Units: 24
This quaint 2 story building in Alamitos Beach has an open quad in the middle where there is a fountain.  Floor plans here can range from 1 bedroom units just over 600 sq ft to 2 bedroom and 2 bathroom units that are over 900 sq ft.  As parking is valuable at the beach be aware that some of these condos come with private garage parking at the rear of the building.   As is the case with many buildings built in the 1960's these Long Beach condos have community laundry and radiant heat.  This building is popular as it has close proximity to the ocean and many of the condos still have wood floors that are in amazing shape.
---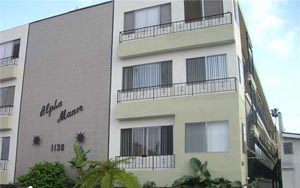 Address: 1130 E. 1st St, Long Beach Ca 90802
HOA: Alpha Manor
Year Built:1959
Units:16
The Alpha Manor is a departure from the traditional two-story buildings in the area.  This complex is 3 stories high with subterranean parking.  Entry level units here are 1 bedroom and 1 bathroom at 781 sq ft.  There are also 2 bedrooms, 2 bathroom units that range in size from 977 sq ft to 1,019 sq ft.  With prime location just blocks from the beach many units will enjoy city lights views and views all the way to the Queen Mary.  The Alpha Manor has radiant heat in the units, community laundry, and the appliances are also electric based.
---