Searching for Long Beach real estate that is close to the ocean and capable of the first time buyer doesn't have to be impossible!  There is a quiet neighborhood just a couple of blocks from Ocean Blvd that is in reach of many buyers.  The neighborhood of Alamitos Beach is a section, primarily Long Beach condos, that is at the eastern portion of Downtown.
This area is characterized by having some wonderful trees along the streets of 3rd and Appleton among many others.  It is encompassed with the following borders:
South of 4th St
North of the Pacific Ocean
East of Alamitos Ave
West of Cherry
The Long Beach condos here were dominantly built in the 1960's and 1970's. Here the complexes are mainly 1-3 story buildings, but there are a few taller 4 story buildings here as well. There is a nice mix of condos of both one bedroom units and two bedroom units. They can range in size from just over 500 sq ft to over 1,000 sq ft for the larger two bedroom units.
Some of the popular complexes like the Stardust, located at 1329 E. 1st St, is a building that has open hallways for fresh air and a good number of plants in the middle of the complex.  The condo complex located at 939 Appleton comes to life with a large fountain in the middle of all of the units.  Here for a limited number of the condos there are attached garages at the rear.
High Demand
Alamitos Beach may often have condos available, but the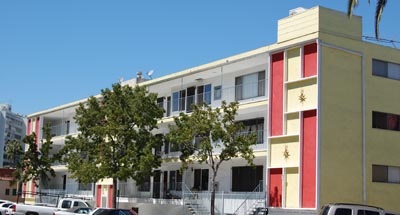 most sought after units are those with parking.  Many condos in this area do not come with a secured parking spot or garage so if you do desire parking, keep an eye on the Long Beach MLS so you can find the one that has parking for you.  There are a few commercial parking lots nearby as well, and getting a unit that does not have a garage or secured space will enable you to save on your purchase.