Affordable Downtown Living, Long Beach, CA
Finding a Downtown Long Beach condo is possible. Many people don't realize that there are some fantastic newer buildings in Long Beach that are affordable. Many of them, like the Emerald Villas, have inside laundry and swimming pools. When you want a condo for sale in Long Beach California, we are here to help you find it! This is only a partial list of great Downtown Long Beach Condos, so please check out more Downtown Condos on the next page.
Find out what is available by viewing the latest MLS listings, or we may even have a listing currently available, if you view our featured listings. If you want even quicker service please contact us immediately at 562-989-7111 and one of our condo experts will assist you immediately. Get on our list to be notified of the latest condos as soon as they hit the market.
555 Maine – The Emerald Villas
The Emerald Villas are located at 555 Maine . Close to Cesar Chavez park and the freeway it is a great location. Built in 1990 it has all of the comforts like subterranean parking, a pool, spa, gym and inside laundry in each unit. All of the units enjoy balconies! Enjoy great city views or if you have an interior unit you will have a view of the lush landscaping that defines this building. Go to the 3rd floor and relax with patio area that has a great downtown view. All of the units
in this building are 2 bedroom properties which is a rare treat. With floor plans from 775 sq ft to over 900 sq ft the units are great for an individual or a small family. Enjoy modern amenities like air-conditioning and fireplaces in every unit. The HOA does an excellent job at maintaining it's facilities and keeps it's HOA dues under $200/monthly. With 100 units in the building these units are almost entirely owner occupied and people don't sell all that often, so let us know if you are interested so you can be the first to hear about a condo available in this building.
640 West 4th Street – Sunset Pointe Condiminiums
This great building was built in 1990 and is close to the Emerald Villas. It is known as the Sunset Pointe Condiminiums. This building has many trees surrounding it and inside it has wonderful environment with a nice brook that creates a tranquil experience. While being in the heart of downtown it is amazing that these 68 units become available. With 1 bedroom and 2 bedroom properties available here there is something for everyone and many of the 2
bedroom units are over 1000 sq ft. It has secured underground parking and each unit has the laundry inside. As it is a newer built building the floor plans are excellent and extremely useable. Many have balconies and some have been upgraded by previous owners. It has a great pool with a city view which is a must see when condos become available here.
628 Daisy Ave – Whaler's Run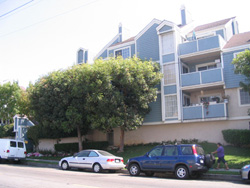 This lovely 80 unit complex, known as Whaler's Run, is located in Downtown Long Beach. There three different one bedroom 1 bath models that start at 600 square feet. The one bedroom units feature inside laundry, gated and secured parking. Some 1 bedroom units also have outside balconies. Plenty of storage exist in all of the one bedroom units.The two bedroom units have two different models and are nice and open floor plans. These units also feature gated and secured parking with inside laundry. The complex is well maintained and has a pool, spa, & club house for one to entertain their friends and family. With easy access to the 710 and shopping in downtown this is truly a complex that is a great buy.       Sign up on our Hot List to be notified about new properties!