Luxury Condos in Downtown Long Beach
When looking for Long Beach Oceanfront Real Estate it is a must to see these luxury condos. Here we have put together detailed information about some of the finest luxury Ocean condos of Long Beach so you can get the information you have been looking for. When you are looking for a long beach real estate listing that is true luxury make sure these condos are on your list.
Find out what is available by viewing the latest Long Beach MLS listings, or we may even have a listing currently available, if you view our featured listings. If you want even quicker service please contact us immediately at 562-989-7111 and one of our luxury condo experts will assist you immediately. Get on our list to be notified of the latest luxury condos as soon as they hit the market.
1500 East Ocean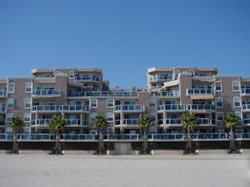 This lovely building built in 2000 by Anastasi is a great example of a modern building fitting in with the aspects of downtown while still providing true luxury. With all of the properties in here being 3 bedroom units it is a true joy to get inside one of these condos. These condos are true examples of Long Beach Oceanfront condos and all have great kitchens that feature granite and have a fire place that you can enjoy along with a spectacular ocean view! With square footages running from just over 1,200 sq ft to over 1,600 there is truly something for everyone. Downtown may have parking issues, but it is no worry here as all of the units have 2 parking spots. There are only 70 luxury units here, they don't last long and they don't come up often, so contact us today to see what is possible. 1400 East Ocean – the Meridian
Enjoy the Meridian on 1400 East Ocean Blvd! These units were developed in 2001 and have commanding views very similar to 1500 Ocean. There are 70 units here in this building ranging from just over 1200 sq ft to over 1800 sq ft! There are a variety of floor plans and they range from 2 bedrooms to 3 bedroom properties. A true example of luxury, these units have granite kitchen
counter tops and range from having striking wood floors to large tile flooring. Enjoy the sun deck that boasts a BBQ and a fireplace or dip into the lap pool or spa! You may also take time to enjoy the community room that includes a pool table and workout room.
Not sure where to move? Sign up to receive more information!