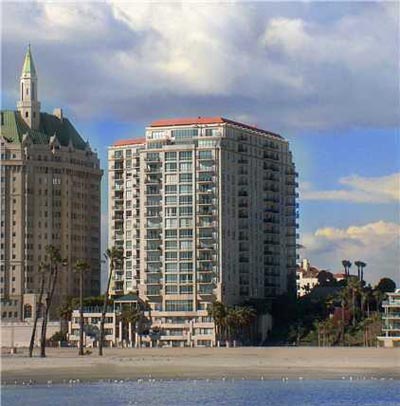 The building located at 850 E. Ocean, Long Beach Ca is called the Pacific.  The luxury high rise condo development was built in 1992.  With a prime location on Ocean Blvd it commands powerful ocean views as well as dramatic city views.  Long Beach condos here are highly sought after due to wonderful floor plans and great amenities.
Long Beach condos here are highly sought after due to wonderful floor plans and great amenities.
At the Pacific you will feel like you are at a 4 star hotel, but it just happens that you are in your own condo complex.  A large entry way with marble flooring and concierge make you feel right at home.  On the first floor you will have access to the gym that overlooks the pool and spa.  From the first floor you will also be able to walk down just a few stairs to get direct access to the beach.  Although there are only a few guest spots available, residents will have no problem parking in the secured underground parking structure.
The Pacific offers a variety of floor plans.  1 bedroom units here will be 881 sq ft or 1,026 sq ft, have inside laundry, and will have balconies so you can enjoy an Ocean or city view.  The 2 bedrooms, 2 bathrooms condos will generally be over 1400 sq ft.  Some 2 bedroom units here will even be over 2,000 sq ft.  With 187 condos in this high rise you would think that you would often see many units available, but many people keep these condos as second residences so you will want to keep a careful eye on the floor plan that is right for you.  Use our Free Long Beach MLS or HOT List so you can find the condo at the Pacific that you have been waiting for.
The HOA includes some of the following features:
Association Pool and Spa
Direct Beach Access
BBQ Area
Library
24 hour Surveillance
Secured parking and storage lockers
The Pacific is located nearby Shoreline Dr so you will be able to enjoy the delights of the Long Beach Grand Prix.  Close proximity to events like the Grand Prix and the wonderful restaurants along Pine Ave make 850 E. Ocean a destination worth investigating when looking for luxury condos on Ocean Blvd.