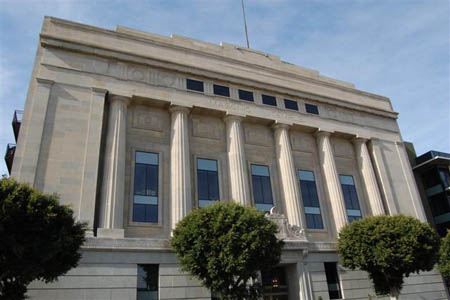 The Temple Loft project has been an amazing development in the heart of downtown Long Beach.  This project has taken the historic Masonic Temple and created an amazing place to live.  The Masons started the construction of this temple in 1927 and was completed by 1928.  Their goal was to create a state of the art facility.  They used excellent materials such as Columbia white and Kasota yellow marble floors which are
showcased in the lobby.  You will also find 12 bronze inserts in the flooring dedicated to different members of the Masons in the lobby.
Highlights of the Temple Lofts:
Only 82 Lofts total
Underground storage
Fitness Center, meeting room, BBQ area, and spa
Large Floor plans
Inside laundry in each unit
Great balconies on many units
More About the Temple Lofts
The project was an amazing architectural achievement.  Trimark Pacific Homes created 82 loft dwellings in the former Masonic Temple.  It was created with six different floor plans that range from almost 800 sq ft to 3,000 sq ft penthouses.  These Lofts were created so you can use the large space in any way you want!  The dramatic high ceilings, Viking appliances and granite counter tops used in the kitchens make the Temple Lofts one of the most distinctive Loft projects in all of Long Beach.
The Temple Loft project is located in the heart of downtown Long Beach at 835 Locust Ave.  This location allows easy walking to restaurants on Pine Street like Rock Bottom Brewery or La Opera.  Where once it was just the Masonic Temple, the builders at Trimark Pacific Homes have built two additional towers to the North and South.  This has created a wonderful living environment and enabled such conveniences to be put in like under ground secured parking and a common area that features a spa and BBQ areas.
The Temple Loft project is an exciting project where you can have the opportunity to live in a thriving downtown environment.  Allow the Global Trust Team to help you pick the right floor plan so you can enjoy it for years to come.  Call us today at 562-989-7111 and we will be happy to explain more about what is available.
Find out what is available today
You may start receiving Temple Loft listings in your e-mail using our Hot List (see form below) or search using our Free Long Beach MLS so you can see what lofts are currently available.
Hot List of Temple Lofts