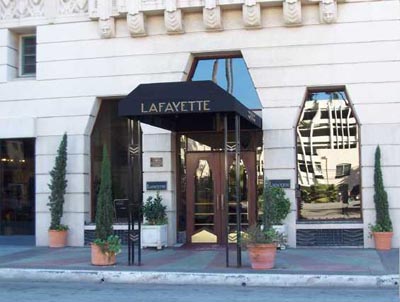 The Lafayette is a historic condo building in the eastern section of downtown Long Beach. Located at 140 Linden the neighborhood is known as the East Village.  Like some of the other historic buildings in the area this building does have commercial and artist spaces.  The commercial spaces are located on the first floor with easy access from the sidewalk.
An historic Long Beach condo in the East Village
Residences
Walking into the Lafayette is a great experience, because you truly feel as though you are stepping back in time.  It has an art-deco style common area and an elevator with a door that looks like it is made from solid gold.  There are 173 condos to choose from here, although at any one point in time you will only find a couple of options to look at.
The Lafayette was constructed in 1928 with the original portion of the building being known as the Campbell Apartment Building and was built with a few different floor plans to choose from.  You will find studios, 1 bedroom and 2 bedroom units.  The sizes will range from under 400 sq ft to over 1,000 sq ft.  There are 11 floors to the building and if you are on the upper floors you will have dramatic city views.  Facing south you will get a mild peek to the ocean and see a great skyline.  Over the years many of the units have been upgraded, but you will find that many took history into account with their upgrades.  They bring modern convenience but use materials that would have been used during that era.
Highlights
The Lafayette is a popular building in downtown.  Some of the highlights of this historic building:
Condos of all sizes
Just blocks from Ocean Blvd
Fitness room, billiard room, and Solarium with one of the best views in Long Beach
Short distance to restaurants and shopping
Like most historic buildings the building has laundry facilities on site and parking is nearby in lots that you can rent on a monthly basis.
Find your Lafayette Condo
Keeping tabs on what is available at the Lafayette is easy!  Get our Hot List so you can be notified of the latest new listings or search our Long Beach MLS right now to see what is available.  If you want to learn more about the building and what is available call us today at 562-989-7111 and one of our downtown specialists will be happy to help give you more information.
Additional Resources:
HOA Contact Information:

Lafayette Association of Homeowners, Inc; (562)436-5391