Don't just admire these condos, own a piece of history
Long Beach is a city that has been under development since the late 1800's. With a prime location near the Pacific ocean Long Beach began it's life with developments that were oriented around those who would like to spend a weekend at the beach. The charm of the beach lifestyle hasn't left and is still alive today.
Today the diverse skyline of Ocean Blvd and Downtown is one that has buildings of all shapes and sizes. As you stroll through the streets though you will find some buildings truly captivate the eye and bring up the feelings of an era gone by. The historic buildings of Long Beach bring a charm to the city and they aren't just to be admired, but to actually be lived in!
Step back into the past with Historic Long Beach Condos
These historic buildings are dominantly located in Downtown but are not relegated to just Ocean Blvd. The charm of these buildings means they have a character all to their own. Sizes of units will vary from building to building but they all share 1 thing in common; they embrace their history!
Learn more about each of these buildings here so you can find the right piece of history for you.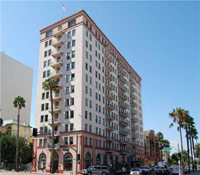 Located on the North side of Ocean blvd it still commands great views of the Pacific. On the corner of Linden and Ocean it occupies a prime location providing easy access to restaurants and the freeways. It's one of the few historic buildings that enjoys balconies. Get more information on the Cooper Arms.
North side of Ocean blvd
Great views of city and Ocean
Has Balconies on many units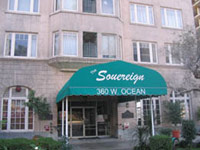 The Sovereign is located on the West end of Ocean Blvd. It has the best place in Long Beach to do your laundry as you will find the laundry facilities on the top floor with great views of the Pacific. You will find studios and 1 bedrooms with great layouts and the lucky few even get a balcony to enjoy. Get more information on the Sovereign.
Best place to do laundry
On the south side of Ocean Blvd
Variety of floor plans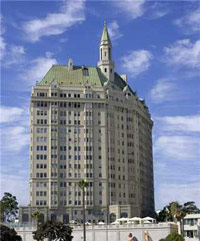 Probably one of the most striking buildings in all of Long Beach. Generally known as the building with "the green roof" this historic high rise occupies one of the best location on Ocean blvd being at Alamitos and Ocean Blvd. Powerful views, a rich history, and great floor plans make this a very popular historic building. With just a short walk to the beach and having condos that can be over 1,200 sq ft this building is one you want to view when looking for a historic condo. Get more information on the Villa Riviera.
Large floor plans
Powerful Ocean and city views
Prime Ocean Blvd location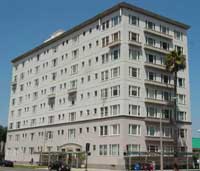 This building looks like it is located on Ocean blvd, but actually has an address on Atlantic. The Artaban has a smaller lobby than many of the historic buildings, but still embraces it's own history with great attention to detail throughout. Great care of this building has been done over the years and many of the units inside have been restored to their original glory. Get more information on the Artaban.
Just 70 condos so keep watch for one
One of the earliest high rises
Great condition
The Californian is located next to the historic Willmore building. This smaller 5 story building has a great Solarium at the top floor and the units have floor plans to maximize their square footage. It has a character all to itself and should be on the checklist when looking for a historic condo. Get more information on the Californian.
Quaint 5 story building with rich exterior
Top floor solarium
Just blocks from the beach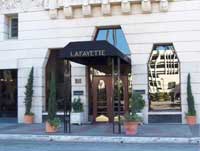 The Lafayette is a wonderful historic condo development located on Linden ave in the heart of the East Village arts district. Composed of 3 different buildings it has a character that is powerfully unique. The top floor solarium provides a commanding skyline view of the city and a few north to Signal Hill. It has been carefully restored over the years so it looks as though it was just freshly built despite it's original construction date of 1928. Get more information on the Lafayette.
Prime east village location
Carefully restored and in top condition
Variety of floor plans to choose from
---
One page on our website truly can't do justice to all of the great history that these buildings have endured and currently bring to Long Beach. We encourage you to learn more about each and every one of them here and we will continue to add more information on them.
Please use our FREE Long Beach MLS to find which buildings have units available or call us today at 562-989-7111 and one of our expert Historic Condo agents will be happy to help give you more information.