Find a historic condo for sale in Long Beach California. Here we have put together detailed information about some of the great historic buildings we have available like the Cooper Arms, the Sovereign, Villa Riviera, and the LaFayette. When looking for a condo in Downtown Long Beach these historic buildings are a must see.
Find out what is available by viewing the latest MLS listings, or we may even have a listing currently available, if you view our featured listings. If you want even quicker service please contact us immediately at 562-989-7111 and one of our historic condo experts will assist you immediately. Get on our list to be notified of the latest historic buildings as soon as they hit the market.
Willmore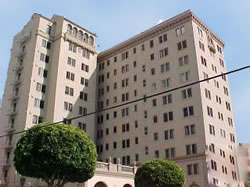 The Willmore Building is close to the Ocean and great restaurants, and is a building with true charm. From the grand entry way to minute details like pocket doors and moldings used throughout each unit, this building has it all. This high rise was built in 1925 and has 112 units so check the latest listings to see if any are available. Some of the units have been converted to fantastic lofts.
Many of the units have fantastic Ocean Views and the sizes range from small studios to larger 1 bedroom units that are over 1,000 sq ft. Located at 315 3rd it is in the heart of downtown, so check with us to see what is currently available.
Cooper Arms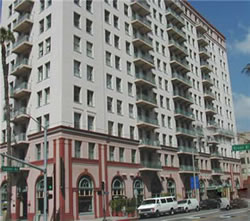 A building located in the heart of downtown! The Cooper Arms was built in 1923 as during the period where many of the other historic buildings were completed. It has small shops located on the first floor where you can drink coffee and eat on a beautiful patio while speaking with friends and strangers alike.
The charm of shops on the first floor allows all of the living areas on the 2nd floor and higher and there is even a grand ballroom that can be rented for special occasions. This building is unique in that many of the units have balconies (some are shared and some have private balconies). From many of the balconies one has a direct or peek-a-boo view of the ocean. There are studios available that are under 500 sq ft and larger 1 bed room units that are over 1000 sq ft!
Many have the classic charm of wood floors throughout and the views are great. With 159 units you would think they come up often, but they truly don't, ask us which ones are currently available. Located at 455 Ocean it is close to great restaurants like La 'Opera and the Madison. The Aquarium is right down the street for more fun!
LaFayette Building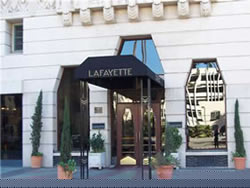 The LaFayette is a wonderful building located at 140 Linden , close to the East Village arts district and many of the new loft projects. This is one of the earlier examples of a mixed use building in that the building has both artists lofts for business use as well as residential condos available. One can purchase a condo to live in or even to have a business office. It is located only blocks from the water and is still affordable.
It was built in 1928 and many of the units have Ocean views. With 195 units there are a good variety of floor plans as there are small studios, 1 bedroom, and even 2 bedroom properties available. As this building is very affordable compared to some, the properties don't last long! Get more information on this great building at their website – www.thelafayettelb.org
The Sovereign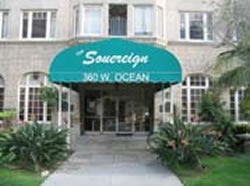 The Sovereign Located at 360 W. Ocean Blvd , the Sovereign building was built in 1922 and boasts history throughout. Truly enjoy doing laundry by going to the 12th floor to see the fantastic city views and relax in the reading room. With different floor plans available there is something for everyone.
From studios to 2 bedroom properties and Ocean Views to City views, find the property that is right for you. In this high rise there are 98 units, but they don't become available all that often, so check with us to see if we have any upcoming listings!
Villa Riviera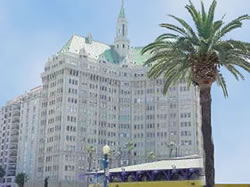 The famous Villa Riviera is located at the corner of Shore Line Drive and Ocean at 800 Ocean Blvd is a true landmark. Many residents and tourists simply know it as the building with the green roof! A historic building, built in 1928, that has been a hotel, a co-op, and now condos that are highly desirable. This is a luxury high rise with views that can span 270 degrees of Ocean.
There are 1 bedroom condos available as well as large 2 bedroom condos. Inventory doesn't last long here, so contact us today to see if any are available. Although there are 118 units here, they don't last long when they become available and it is a rare opportunity to get inside and see them.
Sign up to receive our Historic Buildings Hot List and be notified whenever a condo becomes available!