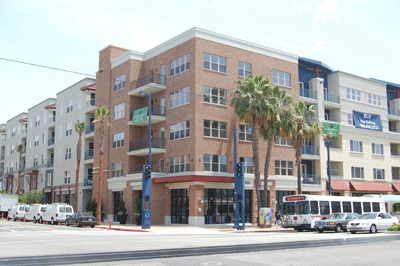 Much of the development of Long Beach real estate has focused on Downtown Long Beach. It has been rich with development of new condos and Lofts. A wonderful new development, blu, is now joining the growth here in Long Beach. blu is a Long Beach condo development that has been constructed by Intracorp who has been involved with other local projects like West Ocean LB. Learn more about the Long Beach condos offered here or get our Hot List to get the latest units that are available.
So what does this Long Beach condo development have to offer?
This downtown Long Beach development boasts a total of 82 residences.  It will contain 62 condos and 14 two-story townhomes.  Just as 133 Promenade did, this development will also offer 6 live/work units.  These units went very quickly when they were offered at the Promenade so expect them to go quickly here as well. Blu provides a compliment to nearby Pacifica (by Lennar) further enhancing downtown.
Residence options:
Residence A – Live/Work
Notes: Street level retail along with living space that accommodates 1 bedroom and 1.5 bathrooms.  Total sq ft is estimated to be 1,620
This downtown Long Beach development boasts a total of 82 residences.
Residence B1 – Single Story Condo/Flat
Notes: These style residences contain 1 bedroom, a great room, 2 bathrooms, and a deck. Total sq ft is estimated to be 1,046.  Prices on these units start at $382,000.
Residence B2 – Single Story Condo/Flat
Notes: This is the first floor plan that provides the opportunity for 2 bedrooms and 2 bathrooms and a deck.  Estimated square ft is to be 1,047.
Residence C – Townhome
Notes: If you want the opportunity to spread out over 2 levels this can be your place.  It provides 2 bedrooms, 2.5 bathrooms and is estimated to b 1,399 sq ft
Additional residences
There are 4 other residences that blu will provide as well ranging from 1,399 sq ft to as large as 1,638 sq ft.  Our Long Beach Condo experts would be happy to give you more information on the different floor plans so call us directly at 562-989-7111 so we can help you learn more. This 5-story mixed use building is located just blocks from Ocean Blvd and has a prime location near the City Place mall.  With 82 residences the availability changes frequently.
Get our HOT List today so we can help you to learn what is available and we would be happy to schedule a showing so you can customize your unit.
Community Features
Not only do you get a wonderful unit in Downtown Long Beach, you will also get some wonderful features provided by the HOA.  With monthly HOAs that range  from $351 to $374 they are able to provide some wonderful features.
A Lobby and Internet Café with coffee bar and plasma TV
Save money on the gym with a Private Fitness Center that has cardio machines and free weights
Barbeques and a fireplace in the 2 outdoor living areas
A putting green
Lounge with pool table, TVs, game table and kitchen
Bike Storage
Get into this wonderful community today by making your reservation for the unit that best meets your goals.
Resources: Information deemed accurate and was obtained from listing information provided by SoCal MLS