---
Belmont Heights, although close to Belmont Shore has a character all to it's own. With mildly hilly streets you might get a condo that even has a south facing view to the ocean. Long Beach condos here may have floor plans over 1,000 sq ft which is larger than in other neighborhoods. You will be able to find complexes with secured parking so you won't have to worry about finding your spot close to the water.
Here are some of the complexes available at any one point in time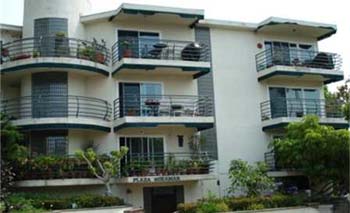 Address: 3833 E. 2nd St, Long Beach CA 90803
HOA:Plaza Miramar
Year Built: 1986
Units: 18
This 3-story building is perched on 2nd St where there is a bit of elevation allowing some great views. If you are lucky enough to get a south facing balcony you will be able to get a glimpse of the Pacific. At Plaza Miramar you will find larger condos than in most buildings. Condos here range from 1,063 sq ft to 1,536 sq ft. With this size you will get the choice of 1 and 2 bedroom units. It has secured parking for each of the units and they have stackable inside laundry. A nice touch is that you also get a wood burning fireplace in your condo. It doesn't get cold enough to use it, but you can certainly enjoy a wonderful evening with some ocean air and a crackling fire. Get the Hot List today or use our free Long Beach MLS to see if there are any condos available at Plaza Miramar.
---
Address: 2538 E. 2nd St, Long Beach CA 90803
HOA:
Year Built: 1978
Units: 24
With a style that is more in tune with the early 80's, this building was ahead of it's time. This intimate complex of just 24 condos has units available with excellent square footages. Here you will find 2 bedroom, 2 bathroom condos ranging from 1,347 sq ft to 1,461 sq ft. With a prime location within Bluff Park this complex is popular but rarely has properties available, so you will want to track the available condos using our Hot List or searching the Long Beach MLS. This 3 story building has inside laundry that acommodates side by side laundry which is a rarity near the beach. The large floor plans also support walk-in closets
---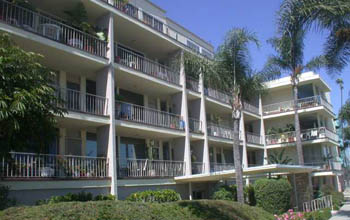 Address: 3901 E. Livingston, Long Beach CA 90803
HOA:
Year Built: 1957
Units: 15
This building has the edge of the Mid-century modern and powerful views. Condos here are on the larger side at 1,145 sq ft. The largest units are just over 1,500 sq ft and are 2 bedrooms and 2 bathrooms like those of the smaller floor plan. Floor plans here are well thought out providing ample living room space and they have inside laundry in each condo. The balconies are large and face South towards the Pacific Ocean. You won't have to worry about finding parking on the street as you will get underground parking.
---