Cal State Long Beach Condos
Finding condos by Cal State Long Beach (CSULB) can be easy! As many parents and students want to purchase a Long Beach Condo, we have put together a list of condo complexes that are close to CSULB to allow you to see the many opportunities that are available. Whether you want to start with a 1 bedroom condo or get a 2 bedroom condo, there are options for everyone.
Use the Long Beach MLS for FREE and find out what great opportunities are available close to CSULB. Some of the areas of Long Beach that encompass the area close to the campus are: Eastside and Circle Area, Los Altos, Park Estates, Belmont Heights and Alamitos Heights.
Address: 5585 E. PCH, Long Beach CA 90804
HOA: Park Ocean
This complex is known as Park Ocean and with 219 units there is frequently a unit available. Located within the Park Estates area, Park Ocean is just a short walk from campus. There is a wide range of possibilities, from studios that are just less than 500 sq ft to larger 2 bedroom and 2 bathroom properties that are over 900 sq ft. They have excellent floor plans to allow roommates to share. Although the complex is larger, it has a wonderful quad in the middle of the complex with a stream, pool, spa, and BBQ areas. These condos have community laundry and designated parking spaces. Enjoy additional amenities like a tennis court and an exercise room.
---
Address: 4132 Mendez, Long Beach CA 90815
A lovely set of buildings located right by the traffic circle. This complex was built in 1988 and has many great features to offer. These units have central air conditioning, inside laundry and great floor plans. The 2 bedroom and 2 bathroom models are separated so that each bedroom has a bathroom attached. The 2 bedroom condos have excellent square footages ranging in size from over 1,100 sq ft to over 1,400 sq ft. The 1 bedroom condos are on the larger side as well as they are over 700 sq ft. Even though parking can be at a premium in this beautiful area, these condos have a secured parking garage making parking a breeze! As there are 100 units here there are often condos available and if you are lucky enough to find a top floor unit there are vaulted ceilings.
---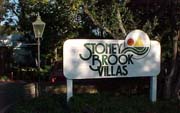 Address: 412-576 Bellflower, Long Beach CA 90814
HOA: Stoney Brook Villas
The Stoney Brook Villas is a condo complex with 471 units. Although that may seem like a large number of units, the development is divided into many different buildings so you don't feel overwhelmed. The grounds are well done with streams running throughout, swimming pools, tennis courts, exercise room, and a club house. There are 1 bedroom units that are 693 sq ft, and larger 2 bedroom and 2 bath units that are 1028 sq ft. This complex was built in 1970 and they have community laundry. No need to worry about parking as each unit has parking associated with it. Many owners have redone their units so you may find some with lovely pergo flooring or upgraded kitchens! Contact us today to find out what condos are available at the Stoney Brook Villas.
---
Address: 4835 Anaheim , Long Beach CA 90804
HOA: Parkview Terrace
Enjoy being close to CSULB and get a lovely golf course view! This building, known as the Parkview Terrace, was built in 1976 and boasts just 60 units. Here you will find some of the larger sq footages of properties that are close to CSULB. With the smallest units being 2 bedrooms and 2 baths at 1,263, and other units at over 1,300 sq ft or even 1,700 sq ft, there are options for everyone. These units have inside laundry and have large balconies so you can enjoy the weather year round! Enjoy the lush landscaping, pool, and spa. If you happen to be on the 3 rd floor you will also experience vaulted ceilings as well as upstairs Loft-like bedroom. This complex is directly across from Recreation Park Golf Course and is only minutes away from the campus.