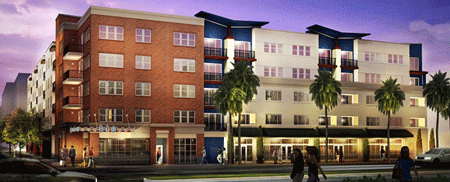 As the 5th largest city in California Long Beach has been continuing it's growth with new developments. It can often be difficult to find out which developments are available, but it certainly doesn't have to be!
Here are the latest new Long Beach condos available throughout the city. Everything from brand new developments to the latest condo conversion projects.
Keep careful tabs here as we will update with the latest developments so you can find the right real estate in Long Beach. If you want to jump start your research call us today at 562-480-1930 and one of our Long Beach new construction experts will be happy to give you more information.
blu is a new Long Beach Condo development located in Downtown. It will boast a total of 82 residences and is located near the CityPlace mall. Floor plans will range from 1,047sq ft to 1,638 sq ft. With both single level (Flats) and townhome units possible you will want to be able to choose which is right for you.
Temple Lofts is a project that is a wonderful adaptive re-use project and is also located in Downtown Long Beach. It has been available for sale for some time so the builder has just a few units remaining. Here units can be as large as 2,970 sq ft so you will want to see which floor plan best suits your needs.
Pacifica is a development built by Lennar, and is in the heart of downtown on the Promenade. This is a condo development that provides flats and townhome units. Balconies were made a priority here to allow you to enjoy the year round great weather. With condos ranging from 656 sq ft to 1,600 sq ft there are properties available for every budget.
With popular places such as Wokcano just steps away and the Stave Bar being located on the ground floor it's no wonder that the Pacifica continues to be a popular place to live.
Condo availability is now limited which means you will have to pay careful attention to what is available when you want to live here.
This is a true luxury high rise. Two towers will built and an emphasis was made to ensure as many units as possible had wonderful ocean views. The south tower will have the most un-obstructed views so act quickly if you want the best view. Units range in size from 987 sq ft to the penthouse units which are over 3,000 sq ft.