Downtown Long Beach Lofts
Some of the hottest pieces of Long Beach Real Estate are Lofts! There have been many new loft projects and adaptive re-use projects in the works with great resales as well. Whether you are looking for the Kress Lofts, Temple Lofts, Insurance Exchange, Walker Building, 133 Promenade, Ebell Theater, Courtyard Lofts, CityPlace or another Long Beach Loft project, we try to keep you informed and let you know a little about each one. If you want the latest list of available lofts, please e-mail me directly and I will send you the latest listings or Search my Long Beach MLS service to see what's out there.
Our goal is to provide information on the newest buildings in Long Beach, see more Downtown Long Beach Lofts and learn about the different types of Long Beach Lofts.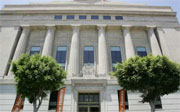 Address: Masonic Temple Lofts – 835 Locust
This great Long Beach Loft project was one of the pioneers of new Long Beach Loft development in Long Beach. While the Kress Lofts and Walker Building garnered attention for many years, the Temple Lofts came along later resulting in a  unique and engaging development.  The original Masonic Temple was completed in 1928. The current floor plans are between 800 and 3,000 sq ft. Pricing from the developer was as affordable as $390,000 to over 1.4 million with powerful views. With 82 units in the development you won't always find something available which means you will want to keep a careful eye on the inventory (or let us do that for you).
This project was done very well with both a North Tower and a South Tower in addition to the units within the Temple. With a gym, storage area for each unit, spa and a great location these Loft will be popular for years to come. Many of the units still have their original Viking Ranges and Porcher sinks that the builder put in when they were constructed.
---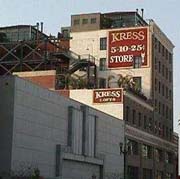 Address: 100 5th St – Kress Lofts
The Kress Lofts, built originally in 1925, but converted in 1992 represent the pinnacle of downtown Long Beach living. With exposed brick, wonderful concrete flooring, and ocean breezes, these Lofts have been in high demand. Enjoy subterranean parking and close proximity to Pine and the all new PIKE. The Kress building has all sizes of floor plans with some reaching over 1,600 sq ft.
With a prime location on 5th St it provides a short walk to fine restaurants as well as easy access to the freeways. Use our FREE Long Beach MLS or get the Hot List to see what is available today.
---
Address: 115 4th St – Walker Building
The Walker building is a wonderfully unique and historic building. Originally built in 1929 it's location offers the best of downtown living. With floor plans that are far ranging and subterranean parking it is truly a must see. Lofts do not come up often, but when they do,they go quickly!
This is one of the most luxurious Lofts in all of Long Beach. With a dramatic entrance and a roof top deck that includes a BBQ and spa this is a building you will want to put on your list when you are looking to purchase a loft.
With just 46 units available here you will want to keep a careful watch on what becomes available so you can find the right loft at the Walker Building.
---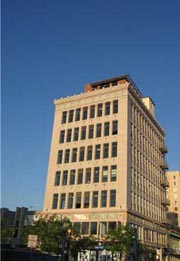 Address: 207 E. Broadway
Loft: Insurance Exchange
Enjoy the heart of downtown in a building that dates back to 1924! The Insurance Exchange boasts Long Beach Lofts with large 1500 sq ft floor plans that have been upgraded since the original date of the building. Now the units feature Porcher Sinks and Hans Gorhe features, along with classic details like exposed brick. There are only 12 units available in this Loft project so act quickly as they do not come on the market that often.