High Rise Condos in Downtown Long Beach and More!
There have been many new condo developments and there are great high rise condos as well. Downtown Long Beach has been growing quickly and as a result the properties are in high demand! With options that range from High Rise and Mid-Rise buildings along Ocean Blvd to developments a few blocks off the ocean it can be challenging to decide where to look first!  Here you can find Long Beach Condos that are close to a great night life and command fantastic ocean views in the Long Beach Condo of your choice. Just a few blocks back from the Ocean, you can find even more Affordable Long Beach Condos as well. This is by far not a complete list, call today and we can give you a list of what is currently available.
We want to document as many of the great buildings in downtown as possible, so check out more Downtown Long Beach Condos!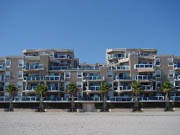 Address: 1500 E. Ocean Blvd
Fantastic Ocean Views and newer construction! This development, built by Anastasi of 75 condos has a prime location, and with floor plans that can have 3 beds and 2 baths, they are quite a find! The floor plans of this development were well planned and range in size up to over 1,600 sq feet.  It was built in 2000 and has washer dry hookups inside as well as subterranean parking.  Being located east of Alamitos Ave you will find a you are just a short distance to both the activities of Downtown Long Beach as well as close to nearby Naples.
---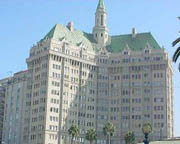 Address: 800 E. Ocean
The Villa Riviera is a fantastic historic building in downtown Long Beach. It is probably one of the most famous and notable buildings along Ocean Blvd.  If you ask those who have taken a visit to Long Beach, they will inevitably as "what is that gorgeous high rise with the green roof?".  This building was built in 1928, not originally as a condo development, and has 134 units to it. Many of the luxury high rise condos have commanding ocean views. 10 ft celings and large floorplans (over 1000 sq ft) provide for a remarkable property.
---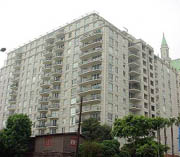 Address: 850 E. Ocean Blvd
Known as the Pacific, this luxurious building has fantastic amenities and great floor plans! One of the most striking aspects to this building is simply walking into the lobby.  Upon entering you will feel like you have walked into a 5-star hotel!  This building contains 187 units and some floor plans are over 2,000 sq ft. Many of the units command ocean views from every room. With amenities that include a gym and a relaxing pool that keeps you so close to the Ocean you won't know whether you should do a pool swim or grab some time in the Ocean, its easy to see why so many people love this development.  It was built in 1992, and with a prime location on Ocean Blvd it is convenient to shopping and the freeways.
---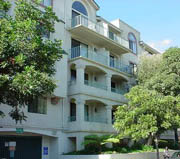 Address: 555 Maine Ave
The units at the Emerald Villas have been extremely popular. It is close to Cesar Chavez park and the freeway it is a great location. Built in 1990 it has all of the comforts like subterranean parking, a pool, spa, gym and inside laundry in each unit. All of the units enjoy balconies! Enjoy great city views or if you have an interior unit you will have a view of the lush landscaping that defines this building. Go to the 3 rd floor and relax with patio area that has a great downtown view.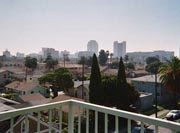 All of the units in this building are 2 bedroom properties which is a rare treat. With floor plans from 775 sq ft to over 900 sq ft the units are great for an individual or a small family. Enjoy modern amenities like air-conditioning and fireplaces in every unit. The HOA does an excellent job at maintaining it's facilities and keeps it's HOA under $200/monthly. With 100 units in the building these units are almost entirely owner occupied and people don't sell all that often, so let us know if you are interested so you can be the first to hear about a condo available in this building.
---